The Story of Dr. Quratulain Bakhteari: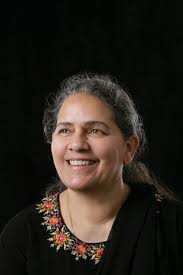 Quratulain Bakhteari grew up in a refugee camp on the outskirts of Karachi after the creation of Pakistan in 1947. When Quratulain was earning her B.A. degree as a student between 1978 and 1982, she worked as a volunteer, organizer, and researcher in the squatter settlements in and around Karachi. She made major contributions both to public health and sanitation during this time, providing toilets to 5,000 households through community actions, effectively changing the sanitation and hygiene practices for more than 35,000 people from 1979 to 1987. After completing her B.A. degree, she helped new refugees coming from Bangladesh by providing them with access to basic health care and education. Later, she earned a master's degree and Ph.D. and established 2,000 government girls' primary schools in rural Balochistan, resulting in the enrollment of 200,000 girls — a record in Pakistan's history.
Frustrated with a lack of efficacy in internationally sponsored development projects, she wrote a concept paper that became the blueprint for Institute for Development Studies and Practice (IDSP), and was subsequently funded by The Asia Foundation for three years. She formulated the curriculum, recruited, and trained faculty in advance of the formal launch of IDSP in 1998.
Since then, she has focused her attention toward safe spaces for young people in Pakistan, and IDSP has set a major strategic goal of establishing a university of its kind in the field of community development in order to work with marginalized youth for a greater social, political and economic change in societies. Currently, IDSP is designing its university curriculum and faculty development trainings in conjunction with the campus construction in Quetta. Quratulain is an Ashoka Fellow and has spoken at prestigious conferences, including the Global Philanthropy Forum and TEDx.