A Teenage Girl Whose Hand Was Burnt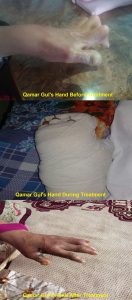 Qamar Gul, a teen ager, had started studying at Institute for Development Studies and Practices (IDSP) in the year 2017. It had been three months since she hadn't shared her experiences courageously during nonformal learning course. It's only when the course instructor decoded the word "Zulm" – oppression in English – and asked the learners to share examples from their lives and how it implies, because knowledge without implementation is like not knowing at all. Qamar, girl who used to have her left hand covered with long scarf, put herself in a vulnerable position and said that she had been oppressed. When she was asked to elaborate, she mentioned that her hand had been burnt when she was 1 year old.
At IDSP learners are not left with inner or external conflicts, instead they are equipped with tools to resolve any issue they might have & provided with all help. Qamar was therefore explained that it was an incident, not oppression. However, Qamar humbly disagreed and said that it was an incident but not having her hand treated is an oppression. She shared that her parents had asked neighbor to bring ointment, but it had acid in it due to which things became aggravated. She not only had to endure the physical pain but had also been emotionally abused by others. Which is why, she continued hiding her hand when she'd joined IDSP at the age of 17.
IDSP took it upon itself to ease her hardship and did all that it possibly could to get her hand cured in one of the best hospitals in Karachi. Her mother had accompanied her and continue to do so whenever Qamar is being called by the doctor. She can now feel the movement in her fingers and is a happy, satisfied learner of IDSP. This made her raise her self-esteem and be courageous in sharing her success story.